Publications are quickly outdated
Today's news is tomorrow's fish and chip paper. If a presentation published on Tuesday is still on the screens on Friday, the content is already redundant. Everyone in contact with the topic has already seen the message.
For the digital signage not to lose its credibility as a fresh communication tool, the screens can't be dormant. The content has to be updated systematically. However, without a user-friendly communication application and message automation it's a difficult task.
There is a smarter solution.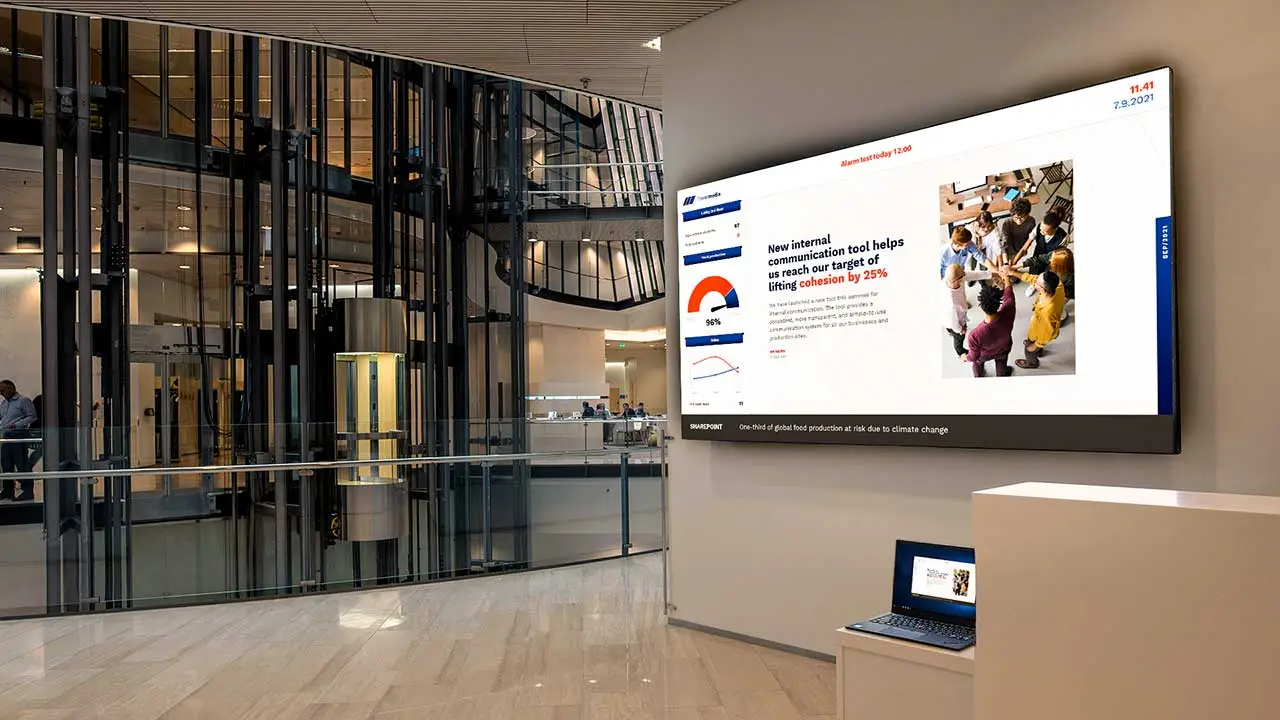 Why is it smart to combine digital signage with a communication application?
Because
you can share messages on screens, workstations, and mobile devices

people see the messages wherever they are

you can publish important information anytime anywhere

the communication app can be integrated with other systems

the messages can be automated

you will streamline your company's internal communications
Display messages on all devices
In cNow communication application all the information is always quickly available to people, regardless of their device. New messages appear immediately on info TV screens, workstations, and mobile devices. Both the mobile and workstation app is designed to be an easy-to-use tool. The recipient can choose whether they want to be notified on incoming messages, and the newest message will always be displayed first. Learning to use the application is easy-breezy for anyone.
Publish right away on all devices, regardless of location.
Reach people anywhere anytime
With cNow you can streamline your company's internal communications. Get a message out to everyone, even when you are on a business trip, working remotely or on holiday. Through the communication application you can keep people posted right here and now. Preset and allocate a message or publish it immediately in real time..
Automate and allocate your publications
Focus on work and let the routines take care of themselves. You can automate and allocate newsletters, press releases, reminders, event invitations or employee congratulations to specific points of time, offices, and devices of your choice. The content will be displayed for the time you have specified - until it will change to new content. It's up to you.
Integrate digital signage with other systems
Dreaming about using only one tool for internal communications? You absolutely can!
Cut down the noise and gather all important info to one place.
cNow can be integrated with the most popular platforms, applications, and software. When all important information is centralized in one place, people avoid hopping from app to app, and get only one notification on each topic. This effortless communication solution leads to less noise and better work efficiency.
Strengthen the company culture
The digital signage content doesn't always have to be formal corporate news. Internal communications at its best can be fruitful discussions about issues affecting the entire work community. You can easily post and publish news and thoughts with the communications app, and also encourage people to share their views.
What has been a success lately? What needs improvement? When your IC technology works as it should, it's easier for people to participate in this discussion. When people feel they can make a difference and information flows openly, it makes people more committed, and the company culture is strengthened.
Eighty-five percent of employees say they are motivated to receive consistent updates from management.
Do you want to learn more about internal communication systems and find ways to improve your results with effective work community communication?
Share this article