An info screen is designed to withstand constant use. After all, it might be on 24/7. In the long run, that is something a home TV cannot handle. In continuous use, it may also overheat and be a safety hazard for your company.
A regular TV has to be turned on and off manually, whereas an info screen can be controlled automatically if necessary. Preset the points of time for turning the screen on and off and reduce unnecessary energy consumption. The screen is always on when you need it to be, and off when it isn't needed.
It's also often much brighter at the office than in your living room. A professional screen must be significantly brighter than a home TV. Unlike regular home TV's, info screens are also available for outdoor use. Outdoor screens are designed to withstand humidity and changing weather conditions.
What kind of info does your work community ask for?
Once your new digital signage system is all set, it may seem like a good idea to share easily accessible random content such as greetings and social media posts without a particular plan. However, we recommend taking some time for planning your internal communication.
When you want to publish, you don't need to be physically at a specific workstation.
What do you want to achieve? What kind of information do your employees really need for their daily work? When internal communication is effective and information is quickly available to everyone, it has a positive effect on people's well-being, motivation, and commitment to work.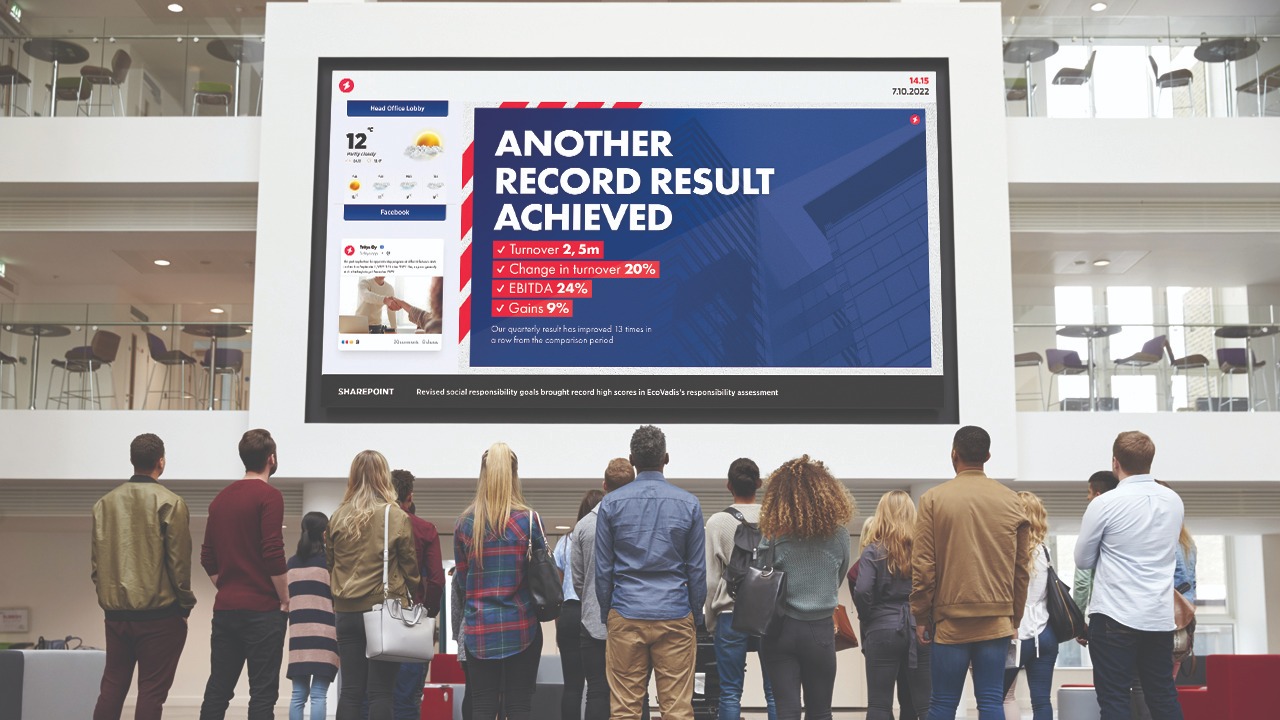 An info screen and an easy-to-use communication app are a powerful combo
cNow communication app makes internal communication more flexible. Target and automate your content in advance, and free up time for more essential tasks. You can easily add new screens to new locations and display the same – or different – content as on the existing screens.
When you want to publish, you don't need to be physically at a certain workstation. You can use the cloud-based cNow app anywhere, anytime. The app makes sure that the content you publish always looks smart and elegant on all devices..
cNow can be integrated with the most common software and applications. It means that your systems produce information for cNow app, which presents the information automatically. No more browsing for crucial information in different places. When all your info is centralized in one application, it makes life easier for both employees and communications experts.
Book a free demonstration
Are you interested in cNow communication app and its possibilities? Would you like to strengthen the well-being of your work community with effective internal communication?
We promise you will learn how to use cNow app in 10 minutes.
Contact us and book a free demonstration!
Share this article